Houston Alcohol Detox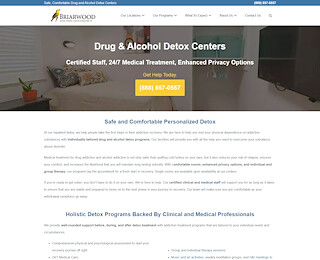 Living with alcoholism daily is a nightmare nobody should have to experience. At Briarwood Detox Center, we provide the opportunity to end it today by joining our Houston alcohol detox program. We offer medical and psychiatric assistance to alcohol addiction victims looking for reliable recovery and long-term sobriety in a clean, secure, and comfortable environment.
Why early alcohol detox matters so much
Just like any other addiction, alcoholism is progressive in nature, meaning that it will worsen with time. The more the disorder progresses, the faster it will degrade your nervous system, behavior, physical and mental health, and personal life in general. This will, in turn, make the recovery process last more and come with uncertain results and a high risk of failure. The most reliable solution to the problem comes in the form of early treatment when you can detox and recover faster due to your condition's low value on the severity scale.
We have helped numerous patients detox and recover from addiction safely over the years, and we have seen how effective early detox is. Our patients have been able to contain their cravings more effectively, experience fewer withdrawal symptoms, and generally recover faster and remain more stable over time. Early treatment is also key for detecting co-occurring disorders and provide reliable long-term solutions based on therapy and medication management over the years.
Benefits of alcohol detox
Our structured Houston alcohol detox benefits are enormous for people who have been battling addiction for years. These include:
Faster and smoother recovery – The alcohol withdrawal can inflict debilitating symptoms in the more advanced stages of alcoholism. Our treatment minimizes these effects and allows our patients the opportunity to endure the detox treatment easier and recover faster.
Physical and mental rejuvenation – We boost our treatment's effectiveness by ensuring optimal nutrition and a healthy mental recovery protocol. The goal is to help our patients heal physically and mentally and adopt a sustainable daily routine over the years.
Relapse prevention training – Our team provides guidance and counseling as part of an in-depth training program promoting sobriety, avoiding social triggers, and relapse prevention. At our detox center, you will learn how to improve your life and preserve your sobriety and health long after leaving our center.
Personal growth guidance – Our program's goals go beyond mere physical and mental detox. It also aims to take people through a self-discovery journey, allowing them to grow more confident, responsible, and positive as a result.
Join our alcohol detox today!
Our Houston alcohol detox center is open to anyone seeking a way out of their addiction. We know how debilitating severe alcohol addiction can be, so let us help you! We guarantee fast detox (several days) and recovery, along with continuous guidance and support along the way.
Call Briarwood Detox Center, go through the screening process, and let's find a solution to your problems! You can make an appointment today for a medical assessment so that you can begin the detox treatment shortly after.