Detox Houston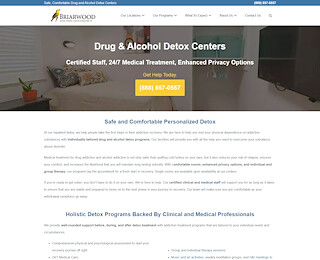 Substance addiction is a highly deceiving disorder with dramatic long-term effects. Finding the right detox in Houston isn't an easy task with so many detox facilities in the area. Briarwood Detox Center relies on a unique approach to treatment, helping patients recover faster with long-term benefits. But what makes us special among other recovery facilities in the business?
Customizable detox treatment
Our Houston detox center relies on patient-oriented detox programs to provide the best and fastest results. We achieve this by resorting to three strategies:
1. Phone screening prior to admission
Your first call at our facility provides our experts with the opportunity to find out more about your situation. They will inquire you about your addiction, symptoms, side-effects, check your insurance coverage, and assess your overall health state. Based on what they find, they will recommend specific treatment approaches for immediate results.
This is when our clinicians will determine if you are eligible for our detox program or you're better off with other forms of treatment. If necessary, we can guide you towards one of our partner rehab facilities specializing in residential and outpatient treatment.
2. Face-to-face clinical assessment during intake
Once accepted into our detox program, you will arrive at our center and undergo a thorough clinical and psychiatric screening. This process aims to assess your overall health status, check your addiction's specifics, and determine the existence of any co-occurring disorders. Our professionals will use the information to craft a personalized drug and alcohol detox in Houston, TX, allowing you to fight off the withdrawal and begin the recovery process.
3. Medication-based detoxification and dual diagnosis
Our Houston detox facilities rely on medication-based detox to cleanse your body of toxins, minimize the withdrawal symptoms, and calm the nervous system. The treatment will allow you to regain control of your thoughts and behavior and prepare yourself mentally and emotionally for upcoming rehab phases.
It's also during this phase that we identify and address co-occurring disorders, providing reliable solutions to mental problems that may impact your ability to recover or remain sober long-term. It is a vital form of treatment that goes hand-in-hand with the detox program, thanks to its outstanding long-term benefits.
Promoting staff-patient harmony
Our staff-patient relationship shows why we have the best detox for addiction in Houston. We believe that the recovery setting and staff's attitude matter when promoting sustainable and healthy recovery. Our experts will remain by your side throughout the treatment, providing support, empathy, and companionship to make sure you stay on course.
In this sense, our drug and alcohol detoxification program is a personal development journey more than anything else. At our detox in Houston, you will detoxify your body and spirit, strengthen your commitment to sobriety, and make plans for a better, more fulfilling future over the years.
If you're ready to begin the rehabilitation process today, call Briarwood Detox Center at 832-850-4318, and let's discuss your case over the phone. Once going over the details, you can make an appointment, come to our center, and prepare for treatment immediately.